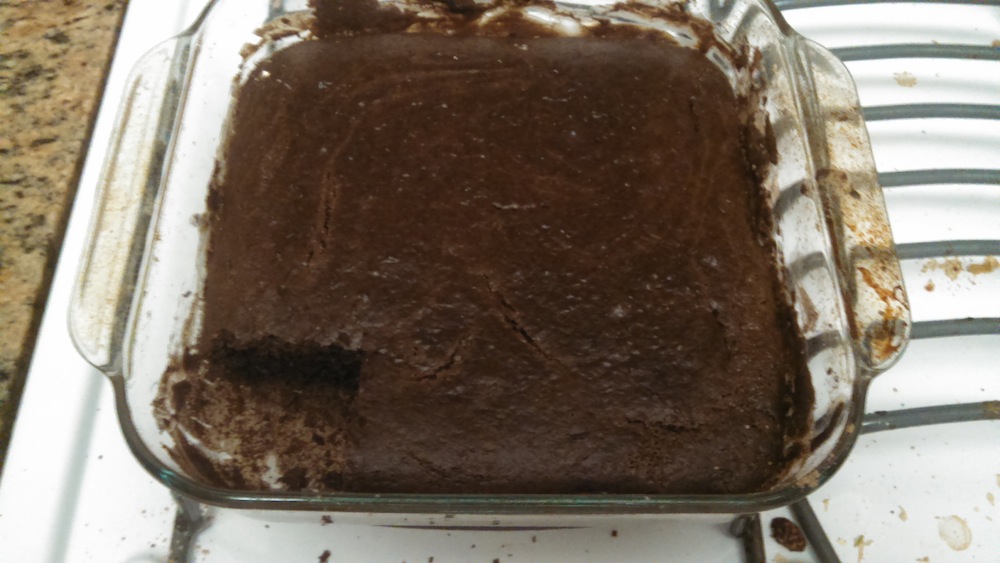 This is a variant on Depression Cakes – cakes made without eggs or milk. They also have a parallel in cakes made during wartime, which used a variety of smart substitutions or interesting innovations. Frankly I consider it proof you can makes cake without milk or eggs – and applaud the innovators.
This one is made with chickpea flour for more protein and maple syrup for sweetness – not exactly things available in the times mentioned. The major challenge is stirring the flour to make sure it doesn't lump up – try sifting it first.
Taste-wise it's decent. Essentially think "scratch-made homemade cake" and you're there. Nothing to write home about, until you realize you're eating a gluten-free, vegan, chocolate cake made from bean powder.  Then it's pretty awesome.
Ingredients:
Dry ingredients:
1 ½ cup chickpea flour (you can use regular flour too)
3 Tbsp cocoa powder
1 tsp baking soda
½ tsp salt
Wet ingredients:
1 tsp vanilla
1 cup maple syrup (you can use 1 cup sugar, but then mix it in with the dry ingredients and use 1 cup water below)
1 tsp white vinegar
4 tbsp oil
¾ cup water
Preheat oven to 350 degrees
Mix all the dry ingredients together thoroughly. The cocoa powder helps determine if you blended it well – if the color is uniform, you're good.
Hollow out the center and 3 corners. In the center put the maple syrup, in one corner the vanilla, one the vinegar, and one the oil.
Stir the ingredients together, blending the maple syrup and other "ends" together – saving the vinegar for last.
Place in oven. Cook for 35 minutes until a toothpick comes out clean.
Steven Savage is a Geek 2.0 writer, speaker, blogger, and job coach.  He blogs on careers at http://www.musehack.com/, publishes books on career and culture at http://www.informotron.com/, and does a site of creative tools at http://www.seventhsanctum.com/. He can be reached at https://www.stevensavage.com/.