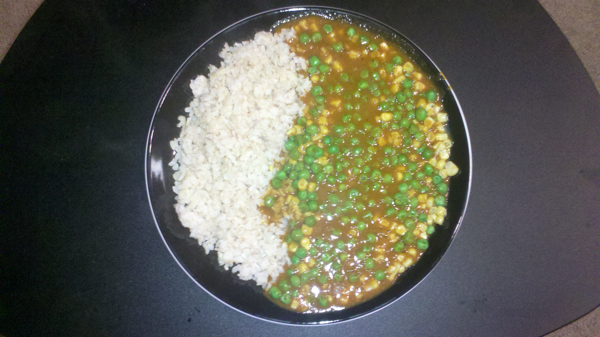 I love Japanese Curry.
Japanese Curry done right is something special.  It's a thick, sweeter, almost gravy-like curry that goes great on just about everything.  It's very popular in Japan, a signature dish in the Japanese Navy, and it seems there's an ever-growing amount of specialty curries coming from the land of the Rising Sun.
I say good.  More curries.
You've probably seen the roux blocks in stores or had a good Japanese curry at some point in your life.  It's everywhere.  It's incredibly popular in Japan, both at home and eating out.
Of course, again, the best part is you can toss it on rice-plus-something and have a delicious one-dish meal.  It's the sauce that makes everything special – and a good sauce makes it amazing.
However, I'm not exactly thrilled with a lot of the options.  The Curry Roux blocks that you get in stores are loaded with sodium (even if they're so delicious).  Some recipes themselves are a bit fatty as well, or involved some timed preparations.  Curry Roux can leave a bit of a gritty taste depending on brand.  Also I'm a freeze-and-eat kind of guy so I couldn't find anything fitting someone like myself who wants to freeze the curry so I can serve it any time – usually you make it with whatever you're going to cover with the sauce.
So I decided to make my own recipe.
I plan to document it here as "Curry Diary" so I can share my wisdom, my knowledge, my experience my tears, and I dunno, whatever happens when a guy tries to make homemade Japanese Curry.
Now on a serious note, this actually embodies an important principle of good cooking: owning a recipe.  Really good cooking comes from doing something until you get it right (read: you like it).  That teaches you a lot, that personalizes the recipe, and that makes sharing it all the more powerful.
I've been doing this for awhile, so the next few posts are going to catch you up . . .
Steven Savage is a Geek 2.0 writer, speaker, blogger, and job coach.  He blogs on careers at http://www.fantopro.com/, nerd and geek culture at http://www.nerdcaliber.com/, and does a site of creative tools at http://www.seventhsanctum.com/. He can be reached at https://www.stevensavage.com/.