I can't say I'm a fan or not a fan of Disney.  Disney's omnipresent enough it sort of doesn't make sense.  But their upcoming show Descendents, which is a school drama where the children of four villains experience (?) redemption among the children of heroes sounded sort of like Ever After High envy . . . and the first picture isn't promising.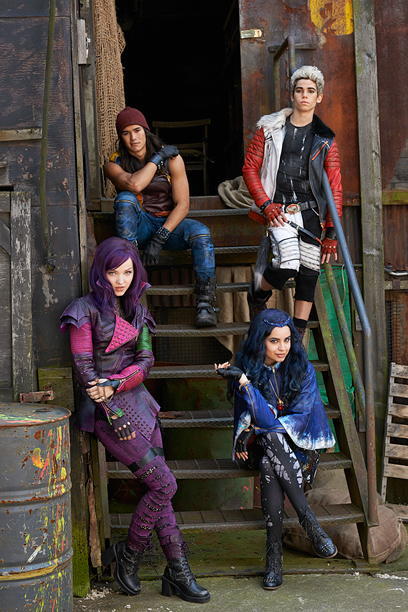 Now I won't cast aspersions on the young actors.  If Disney taps you for some big, if insane, effort, you go. You get to play a Disney Villain, which almost without exception are a heck of a lot of fun.  But as for the characters:
Jay, Jafar's son doesn't look like the descendent of any kind of wizard.  He looks a bit too generic thug-bad-boy.  Could someone give him something wizardly looking?
Carlos, son of Cruella De Ville is definitely rocking the retro-80's hair look with his mom's signature color scheme, and his clothing color scheme is also appropriate.  I kinda dig the semi-Billy Idol.  It's just this is not the son of a fashion icon – in his case "did your mom dress you this morning" should be a compliment.
Mal, Malefecent's daughter needs some kind of horn getup.  She's not even Maleficent-like (take a hint from Carlos).  Also we're not exactly talking "sorceress" here.
Evie, the Evil Queen's daughter  . . . well not sure on this one either, costume-wise.  Needs something more like mom.
So really it looks like Generic Punks causing trouble.  I'm still figuring out how the descendent of a world famous fashion icon ends up in a magical world.  Maybe mom got a taste for dragon skin dresses and things went terrible wrong.  Which is probably better than this plot.
Go look at Disney Characters As Warriors.  Far more awesome.
Steven Savage is a Geek 2.0 writer, speaker, blogger, and job coach.  He blogs on careers at http://www.musehack.com/, publishes books on career and culture at http://www.informotron.com/, and does a site of creative tools at http://www.seventhsanctum.com/. He can be reached at https://www.stevensavage.com/.