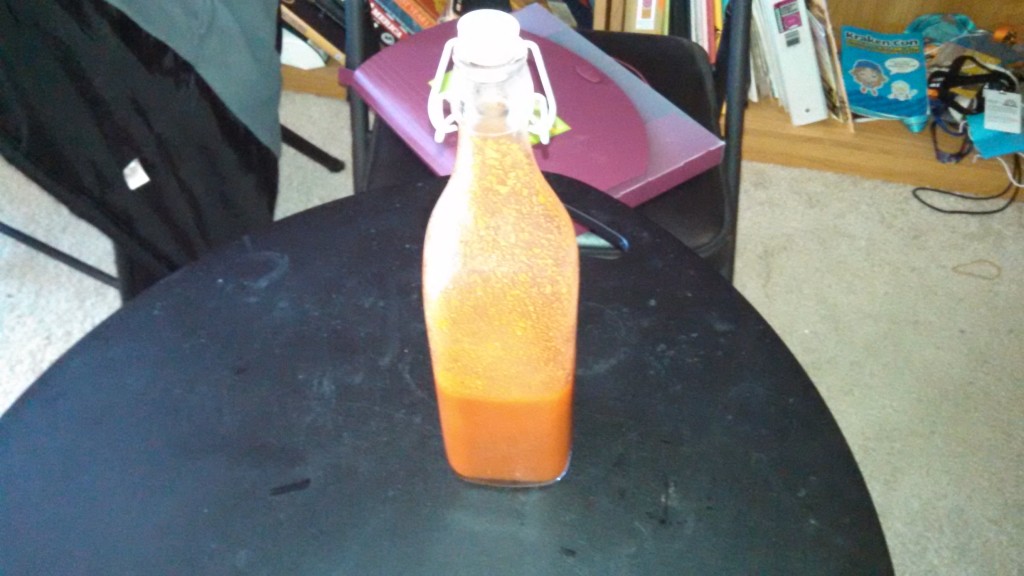 So in the end I decided to learn how to make Sriracha.  I am not addicted to the sauce like many, but it's OK and it'd be nice to have a good hot sauce – oh, and it's fun to try.  Here's my first round.
2 lbs red chili peppers; I used jalapeños.
3 Tbsp maple syrup
4 Tbsp crushed garlic cloves garlic (12 cloves)
1 Tbsp salt
½ cup red wine vinegar
1 tbsp soy sauce
Remove step and split peppers
Puree all ingredients but red wine vinegar and soy sauce in blender into a coarse mix.
Place mix in airtight jar. Leave for seven days, stirring once a day with a wooden spoon.
Place mixture into pan with vinegar, bring to boil, simmer 5 minutes, let cool. Stir.
Place mixture into a strainer over a bowl. Press mixture with wooden spoon repeatedly to drain all the liquid.
Add soy sauce to drained liquid. Pour liquid into an airtight bottle via a funnel.
Store in refrigerator. May keep up to six months, but not sure.
The result?  Not bad the first try, it's got a good taste, a slow but not unpleasant burn afterwards, a bit like a tabasco, though frankly I like it far better than tabasco.  Not as much character as I'd like, probably as it's really just a pile of jalapeños, and I think I got the garlic wrong.
However it's still darned tasty, makes a good hot sauce, and has that fresh, home-made taste that is just unique.  I also mix it with equal parts soy sauce as an absolutely amazing dip.
So next try, I'm going to drop a few jalapeños, add a habanero and a regular red pepper for diversity, double the garlic, maybe add one more tbsp maple syrup, and possibly twice the soy sauce.
However until then, I'll enjoy this . . .
<strong>- Steven Savage</strong>
Steven Savage is a Geek 2.0 writer, speaker, blogger, and job coach.  He blogs on careers at http://www.musehack.com/, publishes books on career and culture at http://www.informotron.com/, and does a site of creative tools at http://www.seventhsanctum.com/. He can be reached at https://www.stevensavage.com/.