Black Bean and Sweet Potato Chili is a recipe that caught my attention online and as it has a lot of things I liked, I tried it.  My first result was pretty haphazard and didn't hold the flavor well when frozen – it had a hint of good taste that quickly quashed.  So after a bit of reading up I tweaked it – adding red wine vinegar and oregano based on my research (which consisted of "what other recipes are like this that have stuff I didn't use").  So here's what I tried tonight:
Black Bean and Sweet Potato Chili
2 Tbsp olive oil
2 Tbsp crushed garlic
1 medium onion, diced
2 med sweet potatoes, peeled and chopped
3/4 cup water
1 Tbsp red wine vinegar.
1 15 oz can petite diced tomatoes, drained (about 1 1/2, 1 3/4 cups)
1 Tbsp chili powder
1 tsp cumin
1 tsp oregano
1/2 tsp cayenne pepper
1/2 tsp salt
1/2 tsp black pepper
2 15 oz can black beans, drained, washed (about 1 1/2, 1 3/4 cups ea)
1) Sauté oil, onions, garlic for two minutes
2) Add sweet potatoes, sauté until onion is soft and transparent, – about 5-6 minutes.
3) Reduce heat, add all other ingredients in order listed, stir to combine
4) Simmer, covered with slightly open lid, 20-25 minutes, stirring every few minutes, until everything is cooked and flavors are blended.
And the results?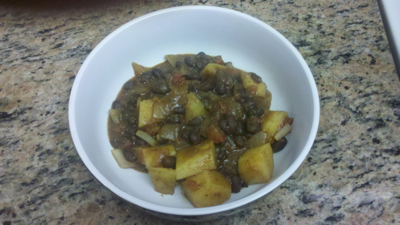 It looks good, but taste-wise it's a bit dull – it's got spice and sweet but it's not very "deep."  The oregano adds a kick that I'm not sure it needs, but the red wine vinegar definitely adds a certain something.
I'm thinking what's actually needed is something that plays with the sweet and it needs either ginger or cinnamon.  I also note the flavors keep blending as I eat it, suggesting it may need to be cooked a smidge longer.
Still it's an improvement over the very dull, depthless taste of my last attempt.
Steven Savage is a Geek 2.0 writer, speaker, blogger, and job coach.  He blogs on careers at http://www.fantopro.com/, nerd and geek culture at http://www.nerdcaliber.com/, and does a site of creative tools at http://www.seventhsanctum.com/. He can be reached at https://www.stevensavage.com/.