(This column is posted at www.StevenSavage.com and Steve's Tumblr.  Find out more at my newsletter.)
Good day everyone, what's been up this week?
So what have I done the last week?
A Bridge To The Quiet Planet: Almost done with feedback – it should be done today.
Agile Creativity: Just waiting on the editor.  I do have the cover done, which you can see below!
Blogging: The Brainstorm Book series continues – and man are you going to enjoy this!
Seventh Sanctum: I've got an idea on my new plans, I just have to kind of collate them.
Instafreebie: I'm part of a great Instafreebie giveaway (check it out).
Newsletter: The newsletter is out (You are signed up for my newsletter right?)
What am I going to do this week?
A Bridge To The Quiet Planet: Finish this final run and see if the editor is up.
Blogging: Continue the Brainstorm book stuff and add another Avenoth Post.
General: Lots of side/background/administrative stuff.  Not gonna be an exciting week.
But now, the Agile Creativity Cover!  Went for business minimalism here: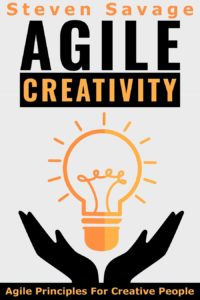 – Steve