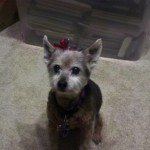 Today, unfortunately, I had to put my dog Lucy to sleep.
Lucy was a Yorkshire Terrier, aged 18 at her passing – yes, 18. She was running down having lived so long, and when I saw her fading physically and mentally, I made the difficult call.
I had lucy for 14 years, most shared with my wife of the time. 14 years is amazing to have a dog, and a life of 18 years is incredible. She was a scrappy, tough dog that I loved a lot.
And I could mourn or cry, but really I wanted to mention what a great dog she was.