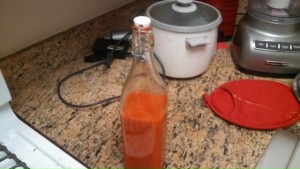 My attempts at a homemade Sriracha-like sauce (aka Rooster sauce) continue.  This version seems to balance the heat and taste closer to my liking, so I think I'm about to where I want it to be.  The heat is there but not overwhelming, and the taste has some richness and complexity to it.
I consider this a success (indeed all the sauces have been good, I'm just improving it over time).  The only issue is the heat outlasts the taste longer than I'd like, so I'm wondering what else I can do – I'd rather a taste that stays along longer than reducing the heat much more.  At the same time it's just pretty damn good so why mess with it?
Let me know if you have any ideas!
Ingredients:
1 1/2 lbs red chili peppers; Fresno, jalapeño, or Serrano
2 habanero peppers
2 red bell pepper
3 tbsp maple syrup
8 Tbsp crushed garlic cloves garlic (24 cloves)
1 Tbsp salt
½ cup red wine vinegar
2 tbsp soy sauce
Remove stems and split jalapeño and habanero peppers. Dice the red pepper.
Puree all ingredients but red wine vinegar and soy sauce in blender/food processor into a coarse mix.
Place mix in airtight jar. Leave for seven days to ferment, stirring once a day with a wooden spoon.
Place mixture into pan with vinegar, bring to boil, then reduce heat to simmer 5 minutes, stirring occasionally.
Remove from heat, let cool, stirring occasionally.
Place mixture into a strainer over a bowl. Press mixture with wooden spoon repeatedly to drain all the liquid.
Add soy sauce to drained liquid. Pour liquid into bottle via a funnel.
Store in refrigerator. It should keep for three months, maybe as long as six.
Respectfully,
– Steven Savage
http://www.musehack.com/
http://www.informotron.com/
http://www.seventhsanctum.com/