(This column is posted at www.StevenSavage.com and Steve's Tumblr.  Find out more at my newsletter.)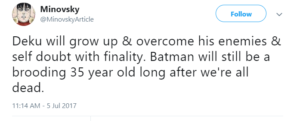 This tweet struck me hard.  It made me think about my talks of Media Gray Goo.  I realized that age plays a role in my concern that our media is becoming dull and repetitious, that there are things we do over and over and over until they loose all meaning.
Here we see an example of that in discussing Batman, the ever re-invented character who bears both the burden of the past and the burden of endless re-interpretation, all fused into a kind of incoherent and re-invented continuity.  We're always re-making Batman while acting like he's the same, which in time seems to whittle the character down, despite some spectacularly well-done takes.
Batman is endlessly stuck at 35, even when authors temporarily play with him until someone presses the reset button.  How many fan arguments are based on what Batman "should be," even though he's both out of date and remade?  How much of him has become Gray Goo?
Above, the author gives the example of Deku of My Hero Academia.  He has a story, he ages, he grows, and in theory his tale may end, though as we've seen from One Piece, some manga and anime do go on.  There's no plans to reboot him, remake him – indeed, the entire My Hero Academia universe presents so many options why would you want to remake it – there's so many other stories to tell and explore anyway.  And if it ends, then it ends – there's plenty of other cool stuff.
In fact, if a story has a good tale and a good arc, why not enjoy a good end?  Maybe follow up with the rest of the setting, other characters, and so on.  Let things grow – and if you miss the old tale, then re-read it or re-view it.  You can discuss something in context, while also acknowledging all its flaws and places in time.
So I want you to imagine a different world, where superheroes had their stories and they ended.  Where we dig up reprints of old Batman comics, with their starts and endings, and if Batman is remade then it's a remake of a tale with a start and a finish.  Imagine being able to enjoy Batman in context and history, not as ever-remade battles of marketing and reboots and a return to zero?
Maybe we need to let things end or pass on.  That's what's life about after all.
Steven Savage