(This column is posted at www.StevenSavage.com and Steve's Tumblr.  Find out more at my newsletter.)
OK I've hinted at it or talked about it but it's here – my book on Agile Creativity!
This is the result of experimentation, research, discussions, and blogging – a guide to how to use Agile in creative efforts. However this isn't about specific methods – this is about mindset.
Do you really understand value?  How can you get more done by doing less?  Are you supporting yourself so things happen – not trying to force them to happen?
I dive into the Agile Software Manifesto and the Principles behind it – and then focus on how to take these ideas and use them for art, writing, and more!  Let's get Agile, get Creative – and get more done with less stress!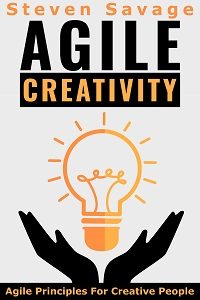 -Steven Savage